A splashy wine conference took place earlier this week in Hong Kong. WineFuture, as it was called, brought together a bunch of big-name wine mavens for several days of talking, tasting, and schmoozing. Judging by the reaction on Twitter, the event was something of a bust, although it did yield a priceless quote. Pancho Campo, WineFuture's organizer and head of The Wine Academy of Spain, admitted to wine writer Rebecca Gibb that the panel discussions had been less than scintillating and said, "One of the problems the [wine] industry has is we have great minds but terrible speakers." Give the man points for candor. If WineFuture is never held again, I suppose Campo's remark can serve as its epitaph.
Presumably, Hong Kong was chosen as the venue for WineFuture because it is the gateway to China and China is seen as the Promised Land by the global wine industry. It seems that every wine region in the world is now staking its hopes on China. At a wine fair that was held in Hong Kong several days before Campo's pow-wow, there were exhibitors not only from wine-producing colossi like France, Italy, Australia, and Spain, but from places like Israel, Georgia, Latvia, and Malta. The fixation with China is understandable: with the United States still suffering through a housing and unemployment crisis and Europe seemingly on the brink of economic Armageddon, fast-growing China looms as a potential savior.
Wine producers are hardly the first foreign merchants to be seduced by China; in fact, the wine industry has been fairly slow to succumb to sino-euphoria. I lived in Hong Kong in the mid-1990s, a time when Western multinationals were making their initial push into China, and the city was crawling with starry-eyed Americans and Europeans en route to and from Beijing, Shanghai, and other mainland cities. Everyone was cutting deals, and salivating over the prospect of reaching a billion consumers. An American business consultant who resided in Hong Kong had a great term to describe the giddy optimism that propelled this particular gold rush. He called it the "two aspirin theory of China"—if you could sell two aspirin to every man, woman, and child in China, you could mint a fortune. Substitute two bottles of wine for the two aspirin (and cut the kids out of the equation, of course), and you understand why all these winemakers are now panting so heavily about China.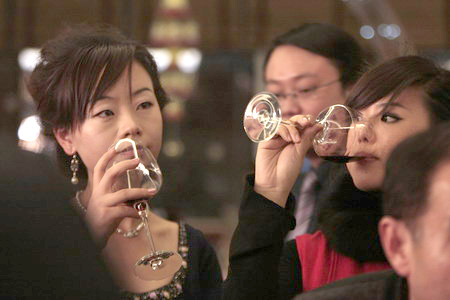 Realistically, though, how much cabernet, pinot noir, and syrah can China absorb? Yes, there have been some record-setting auctions in Hong Kong, but these sales have revolved around a tiny number of venerated labels—Lafite, Latour, etc. Bordeaux apparently enjoys enough cachet among Chinese grape nuts that less prestigious clarets are selling well, too, and Burgundy also seems to be attracting some interest now (I clenched my teeth while typing that last part). The Australians have been furiously working the China market in recent years, and their efforts seem to be paying off. It doesn't appear that California wines have made inroads yet. I recently spoke with Charles Banks, the former owner of Screaming Eagle, the ne plus ultra of Napa cult cabernets, and he was skeptical about the California wine industry's prospects in China. "Anybody in California who thinks that China will be their salvation is living in a dream world," he said. If that's true for wines from marquee regions such as Napa and Sonoma, then surely it is true for wines from more obscure places.
Last week, I posted an item about the controversy surrounding Wine Advocate contributor Jay Miller's pending trip to the Murcia region of Spain, a visit that has now apparently been canceled or at least postponed.  To me, the most pathetic aspect of Murciagate, as it has been jokingly dubbed, was that Miller and Pancho Campo, who was organizing his visit (busy guy), were scheduled to host a seminar at which they were going to give local vintners tips on how to crack the US and Asian markets, advice that was presumably going to garner both men hefty speaking fees. Perhaps Miller has some wisdom to impart about the American market—he was a retailer—but what does Campo know about selling wine in China? Has ever done it? And what's the likelihood that any of the producers attending this "strategy session" would be able to cultivate a following for their wines in China? The seminar struck me as an exercise in wishful thinking.
And, of course, all of the optimism about China is predicated on the assumption that the country's economic surge is going to continue unabated. But that may not be the case. A report released Tuesday by the Conference Board predicted that China is going to see sharply decelerating growth over the next decade. By 2017, the group says, China's annual growth will be down to just 3.5 percent and will remain in the low single digits for some years thereafter. Obviously, long-range projections of this sort often don't pan out, but if the Conference Board is correct, the implications are profound. China's political stability depends on sustained rapid growth; if the boom times end, social unrest could well follow. And if the economy slows as dramatically as the Conference Board believes it will, this will inevitably hinder the spread of oenophilia. There is no denying that China is a promising market, but all these hard-up wine producers and wine regions that see it as a potential lifeline amid the current global economic turmoil are surely deluding themselves. To borrow from Keynes, the Chinese market can remain embryonic longer than they can remain solvent.